We provide phone repair and installation, moving, CCTV, paging, wiring, Panasonic, and VoIP by Nextiva in Jacksonville, FL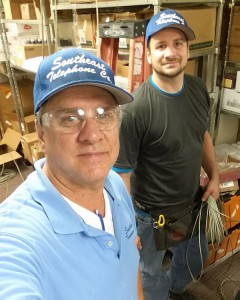 Mike Howell, known professionally as Mike the Phone Man, and his professional staff provide clients the knowledge and expertise in the installation and repair of telephone systems – even the older products – and computer networks. They are problem solvers and have the reputation to prove it.
Northeast Florida and Southeast Georgia clients have come to know and trust their services for nearly 30 years. The staff is dependable and can be counted on to provide your business or residence with the telephone system and computer networking you need and require. Simply put, they get the job done right – the first time.
Services include, but are not limited to:
Business and residential telephone and communication systems
VoIP phone setup or Voice Over Internet Protocol by Nextiva, the #1 VoIP system in America, to connect all business communication (voice, video, chat)
Moving, installing, and repairing

Cabling installation & termination of voice and data networks
Connecting auto attendant, voicemail and voice-over IP systems
Cabling of PBX systems

Computer networking, wiring and data cabling

Wiring and Ethernet cabling: CAT 5, CAT5E and CAT 6
Structured Cabling Design & Implementation
WiFi / Wireless Network Installation | WLAN Networking Setup | Access Point Installer
Wiring of low voltage equipment or products
Repairing of network cablings, including jacks

Access entry
Connecting recording equipment, music systems, surround sound, music on hold, and inside/outside patio speaker systems
Wiring of doorbells, including doorbell to satellite to doorphone systems
Repairing and servicing Intercom communication systems, including drive-thru and gate communications
Wiring of security camera and surveillance systems (CCTV, IP Security Cameras, Wireless Cameras, & Video Surveillance)
New, used or refurbished equipment – all with a warranty
Our company, Meridian Technologies, has done business with Southeast Telephone since we opened in 1998 (17 years). We bought our first telephone system from Mike Howell, receiving great value for the money we spent. Mike took the time to understand our business that we were just starting out and didn't have a lot of money to spend, and got us a solution that worked great. We continued to work with Mike as our company grew. He always tried to help us find a system that we could grow a little, but not jump too far ahead and spend a lot of extra money when we did not need to. Whenever we had an issue, he was always quick to be there to help us. When his son, Ken, joined the business to work with his father, the great customer service continued. We even asked Southeast Telephone to work with us on our new offices in Charlotte, NC. They have made many trips to Charlotte to install systems for Meridian, and there has always been great customer service. They even looked out for our interests with other vendors on the construction site to make sure Meridian was not being ripped off!! Bottom line, you cannot go wrong with Southeast Telephone. They only do the best for their clients!

- Monteen Pillay

/ Executive Vice-President – Meridian Technologies

CERTIFIED DEALER OF PANASONIC® DIGITAL PHONE SYSTEMS
When experience counts, call Mike the Phone Man!
Southeast Telephone and Intercom offers competitive pricing with no trip charge added for local businesses, plus availability 24/7/365 for emergency service.
We are safe, reliable and work with established fire codes.
Ask about our Warranties and Maintenance Contracts!